Meet our staff
---
Vy Doan - Practice Manager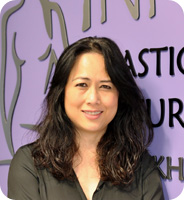 Vy joined San Diego Hand Surgery in 2015 as a Practice Manager. Vy help developed and built Innovative Surgery Center, our ambulatory surgery center. She has over 20 years of medical and dental experience as an office administrator and manager. Vy will work with and guide you through your surgical experience from start to finish. Vy will help you answer any questions that you may have regarding your individualized surgery or any financial obligations.
Vy is a happily married mother with five beautiful daughters.
---
Gabriela Rodriguez - Certified Surgical Technologist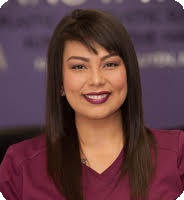 Gabriela (Gabbie) is a surgical technologist and patient care coordinator. She graduated from Concorde Career College in 2008 and received her diploma in Surgical Technology. During that time she did extensive clinical work and studies at Alvarado Hospital and Kaiser Permanente on Zion. For a while the happily married mom of two boys took a break from her clinical studies to dedicate more time to her young family. Fortunately for us she applied for an opening as surgical technologist with us and ever since has become an essential part of our team.
Appart from spending time with her family Gabbie likes listening to music, dancing, and last but not least she loves animals.
---
Kimberly Sandberg - CRNA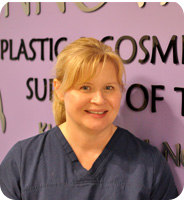 Kim completed her anesthesia training and is a graduate of the University of Southern California. She is an astute healthcare professional with exceptional clinical, didactic and managerial skills. Kim is a Navy veteran with over 25 years of Naval service. She has experience with various surgical specialties and serves as clinical faculty for the Navy Nurse Anesthesia Program and Clinical faculty for the Uniformed Services University instructing medical students, PA students, and Dental Residents. In her spare time, Kim enjoys cheering her three children in various sports activities, attending baseball games and spending time outdoors.
---
Tida Good - RN/BSN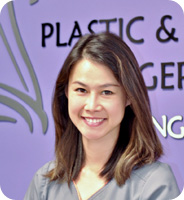 Tida is an experienced registered nurse who specializes in outpatient surgery. She has a Bachelor of Science in Nursing as well as a Bachelor of Arts in Psychology. She is here to take excellent care of you throughout your surgical experience. She is available to answer any questions you may have regarding your surgery. Tida also has background in pain management and mental health which is extremely valuable when managing stress, anxiety, and pain during your surgery. In her free time, Tida is a master of DIY projects. She also enjoys cycling along the Pacific Coast, hiking mountains, and taking care of her little critters.
---
Christine Adkins - Certified Surgical Technologist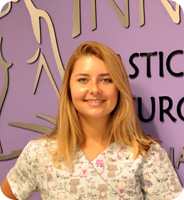 Christine is our Certified Surgical Technologist. She assists Dr. Nguyen in all surgical procedures in the operating room. She also help to check in and schedule appointment for patient. She completed her training for Surgical Tech at Southwestern College, and now she continues her education at Miramar College. She always has a smile on her face and will answer any questions you have regarding your perioperative experience. In her free time she enjoys camping, fishing, hockey and exploring San Diego.
---
Ashlie Cochren – Certified Surgical Technologist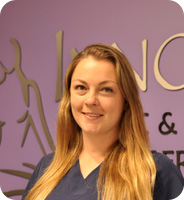 Ashlie is our Certified Surgical Technologist. She is Dr. Nguyen's primary assistant in the operating room. Ashlie completed her school at Southwestern College and earned her Surgical Technologist certification from NBSTSA. You will find her ready to take care of your every need during your surgical experience. Ashlie is a San Diego native and spends her free time attending sporting events, as well as soaking up the sun at the beautiful San Diego beaches with her 2 dogs.